The opening of the James Castle House will feature a community party at the historic Egyptian Theatre, a three-day inaugural symposium, citywide exhibitions and receptions, and culminate in the public opening and ribbon cutting ceremony on Saturday, April 28, 2018. Visit our Events calendar for details.
Serving as a testimony to the life and work of American artist, James Castle, and rooted in Castle's sense of wonder and discovery, the house today is a center for contemporary and historical exhibits, tours, performances, talks, an Artist-in-Residence program, and community partnerships. Both the historic buildings and the new wing invite you to explore the spaces unique only to James Castle. Opening April 2018.
Located in Boise's Collister neighborhood, the center consists of the original Castle family home, two historically significant outbuildings where James Castle lived and worked, and an outdoor convening space. The house itself dates back, in part, to the early 1900s, and features a guest room accommodating the residency program, an artist studio, exhibition space, and the General Store, carrying books and gifts inspired by James Castle and his artwork.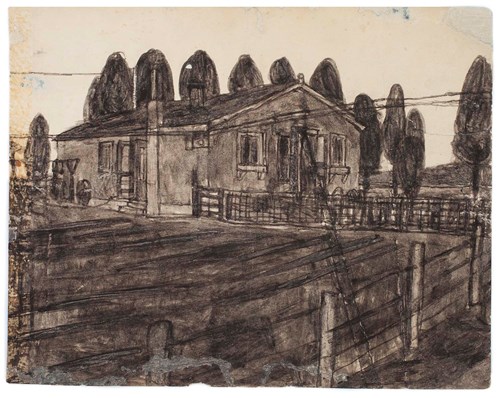 James Castle (1899-1977) is one of the most unlikely and enigmatic American artists of the twentieth century. He was born on a  small farm in Garden Valley, 50  miles northwest of this property, and lived there in Star, Idaho  during his youth, before moving to this house with his family in 1931.  Castle was born deaf ,  and, while he attended the Gooding School for the Deaf and Blind, he never became proficient in reading, writing, or  a conventional means of communication.  Because of this he was largely excused from the farm's chores and allowed to spend his time freely. From an early age Castle displayed a great love for drawing, whiling away the hours on pencil representations of his immediate surroundings.  As Castle matured so did his  art and technique, all entirely self-taught. By the time he moved to this house, Castle produced an enormous volume of work  daily, ranging from soot drawings of his home and the Idaho landscape, to constructions of birds and everyday objects made from cardboard and string, to mysterious books filled with his own texts and symbols. Castle's work first captured attention in the art world in the early 1950s, and interest steadily grew in his art and life story throughout the remaining years of his life. Today James Castle is one of the most celebrated self-taught artists in the world, his work capturing the public's imagination even as the question persists of just what he wanted us to see…. find more